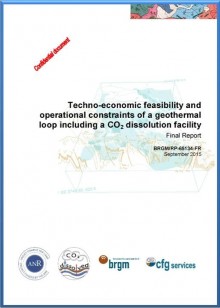 This report, published in December 2015, is the deliverable D1.3 of the CO2-DISSOLVED project.
On request from the ANR and in agreement with the partners of the CO2-DISSOLVED project, this report remains confidential until the end of the project (04/30/2016). Only the first five pages of the report (title and synopsis) are currently available (see the "Attached files" paragraph below).
From May 2016, the status of this report will become public and the full document will then be downloadable from this site.
Dernière mise à jour le 12.04.2016